new use for stitch markers
I don't know if anyone else does this, but I just figure out something awesome.
After the move from Chi-town, all of my knitting things are gone, so I only have one set of DPNs, and they're made from birch, and I hate them. I got them to work on Tubey, but since I hate them so much and have a problem with laddering that you wouldn't believe, I decided to do the Magic Loop thing instead.
The cord on my circ isn't entirely broken in yet, as it's very stiff. It makes me nervous when the stitches on the two halves get pulled like they do, So I put a stitch marker on it to hold it loosely, since I'm apparently needing my fingers elsewhere.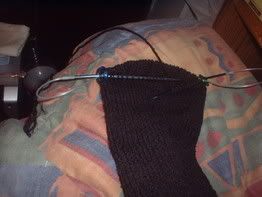 I apologize for crappy image quality.
Anyway, the little rings, (which I got on the cheap from Wal-Mart, as I'm too poor to get the nice ones that have a little split in them) keep the needle and cord from being able to seperate that far, keeping my stitches from being horribly stretched, which would further deform my gauge.
I actually swatched for this one, believe it or not, it's just that my circular gauge is not very near to my flat gauge. It was off by a whole stitch an inch, before I fixed it.
Oh, I almost forgot. I got past the first join today. Would have gotten farther iffen I hadn't gotten distracted doing homework.